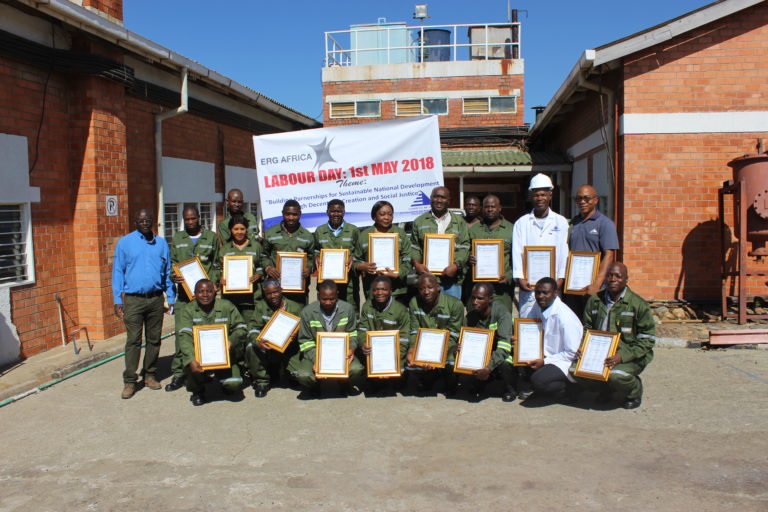 International Labour Day, also called Workers Day, is celebrated across the world. And so it should be. It matters very little whether the employer runs a grocery store or a mine, our businesses are all only as good as our employees.
ERGA is joining hands with the Zambian government in honouring employees at Chambishi Metals who put in extra effort, achieve more, come up with great innovative ideas and set new standards that sustain our very existence and growth.
We are delighted that the Zambian Ministry of Labour and Social Security, in conjunction with the Zambia Congress of Trade Unions and the Civic Leadership, are championing Chambishi's Labour Day Celebration to recognise employees as the most valuable asset of any organisation.
This year's Labour Day theme is "Building Partnerships for Sustainable National Development through Decent Job Creation and Social Justice".
Social justice is pivotal to the global ERG mission statement and not applicable only to Zambia. ERG operates in 14 countries across four continents and employs 75 000 people, and our commitment about social justice extends to all of them despite socio-economic, cultural or ethnic diversity. Social justice is all about a life-cycle approach that caters to the needs of all of working age, regardless of gender.
With regard to partnerships and sustainable national development, we are delighted that the Zambian government recently introduced its next medium-term national development plan. It underpins a commitment to becoming a prosperous middle-income country by 2030, which is wonderful news for all of us.
Equally important for our workforce, ERGA is undertaking an ambitious turnaround programme to greatly increase production in the next three to five years.
As our Group CEO Benedikt Sobotka says, "We view Africa as a driver of our future international growth. In addition to Kazakhstan, Africa is a region that offers exceptional opportunities for ERG to strategically expand its portfolio".