Media: CNBC Africa
Topic: Africa is still under-represented at WEF – Eurasian Resources Group CEO
Date: 23 January 2018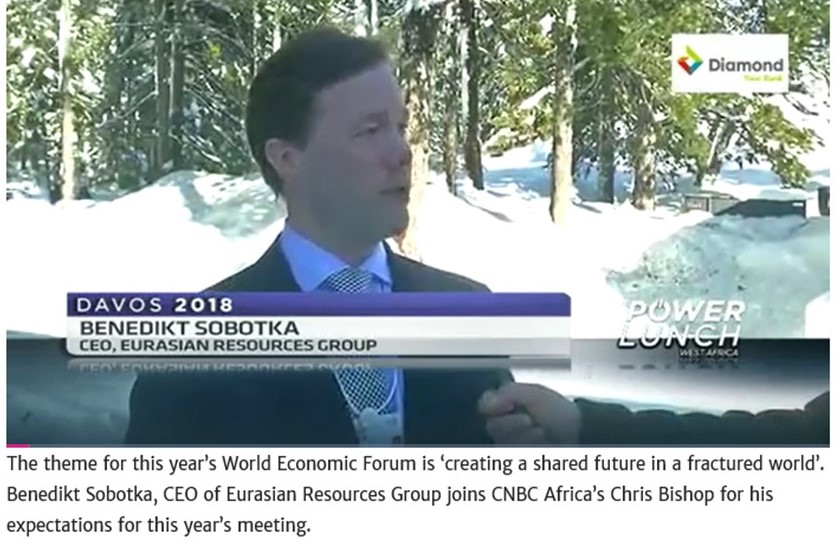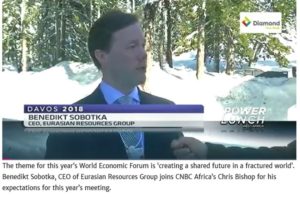 At the World Economic Forum (WEF) in Davos, Benedikt Sobotka, CEO of ERG, said in an interview with CNBC Africa's Chris Bishop that the representation from Africa at the WEF is still very small. A few presidents and a few prime ministers attended, but not enough given the importance of Africa and its investment opportunities in the future. The World Economic Forum is committed to improving the state of the world and is the International Organization for Public-Private Cooperation. The Forum engages the foremost political, business and other leaders of society to shape global, regional and industry agendas.
Benedikt went on to say that, what Elon Musk has done for the electric vehicle is incredible, and we are now just at the start of a massive revolution in the industry. What does this mean for us? Well, in order to build an electric vehicle you need a cobalt-based battery – there is no alternative. And for that battery's construction you need cobalt. Today the majority of the world's cobalt comes from the DRC and from Zambia, and ERG is one of the major investors in the Copperbelt.